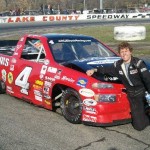 It's official! Results just being posted on website today.
To all of our friends, family, sponsors and supporters…. Jr. had a great race last Sunday at Lake County Speedway. Finished 5th, 2nd fastest lap in the race and has won 2014 ARCA Truck Series Rookie of the Year! It was an up and down race – great recap and posts at www.arcatruckracing.com We'll have our own news release out shortly. The truck series banquet is Nov. 15in Toledo.
BUT – wanted to say THANKS to all of Jeff Jr's sponsors and his crew/team who made it happen… Have said it before and will KEEP saying it again, absolutely no way Jeff could have accomplished this without your help!
With a 5th place finish at Lake County Speedway at the last race of the season, Jeff Myers Jr. is 2014 ARCA Truck Series Holley Performance Rookie of the Year.
Jeff Myers Jr.
2014 ARCA Truck Series Rookie of the Year
2012 ARCA Sportsman Rookie of the Year
SPEAR Motorsports
DBRE Racing Engines
Sidelines Sports Eatery and Pub
Jacob's Ladder
Todds Guns
The Mannik & Smith Group
Flick's
Royal Blue Wax
Dr. Al's Team Vicarious
MADAC
Ray's Door Service
Lambertville Do It Best Hardware
Starts NAPA Auto Parts
Needles Automotive