Welcome to Flick's Package Liquor, Inc.
We have been family owned and operated in Bedford for over 60 years, and are open 7 days a week, 364 days a year, all for our customers' convenience. We are proud to offer an extensive and unique selection of products, our selection is quite extensive and extremely diverse. Featuring just about every kind of alcoholic beverage you can think of, Flick's also carries the policy of "if we don't have it, we will see if we can get it for you." Our staff is not only very friendly, but also very knowledgeable and we are proud to have such a great team, which have advanced us into the most diverse and exciting party store around. Many of our employees have been with us for many years and look forward to making your shopping experience with us the best experience ever. Feel free to browse through our website, where you can learn more about our tastings and upcoming events. You can also purchase one of our baskets (alcoholic and non-alcoholic) and our apparel online. And of course, learn about our stock of spirits, premium and fine wines, beers, kegs, stocking your bar, gourmet coffee, party planning, and even our handmade chocolates.
From my family to yours, we look forward to serving you.
-Melissa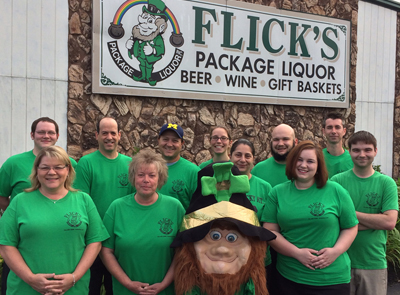 Don't Want to Miss Any of the Action?

Subscribe to our email list today!