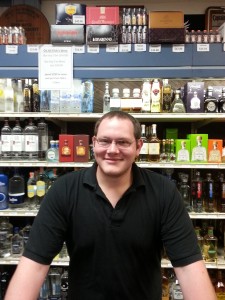 Jonah Spirits Manager
Favorite Beer Styles- Lambics, Shandys, Hard Cider, Belgian White Ales, Stouts, Lagers, Ales, Barrel Aged Ales
Jonah has a very diverse palate when it comes to beer styles, having a grasp on the fundamentals of most beer varieties. When it comes to experience he has a deeper knowledge than the average consumer being able to discern the qualities that make up a particular style, however he falls short of having the palate of a dedicated craft beer drinker.
Favorite Wine Styles-Dry Red, Dry White, Sweet White, Sparkling Wine, Sweet Red, Dessert Wine, Mead
When it comes to wine Jonah again has a fairly diverse palate being able to taste the positive and negative qualities in most wines. Virtually all wine styles appeal to his taste preferences, except for oaked chardonnay, and when desiring a description comparing vintners or vintages one of our more experienced sales associates would be able to provide a more accurate reference.
Favorite Spirits- Whiskey, Rum, Brandy, Cognac, Armagnac, Gin, Vodka, Liqueurs, Cordials, Scotch
When it comes to the spirits Jonah greatly excels with a palate experienced to taste the subtle tones and flavors in almost every style of liquor. Having tasted through most of the products offered in the state of Michigan he has solid grasp on the liquor category as a whole.
"If it tastes good to you, drink it!"